Leaders' Summit Details and Schedule:

We will be meeting in room 204 in the James E. Todd Building at the University of Montana.  A good visual is to look for the giant "M" on Mount Sentinel and head right near where the switchbacking trail comes down. The Todd building is just south of the Mansfield Library and east side of the University Center.  Check-in and breakfast will start at 8:00am on Saturday and we'll get started at 9:00.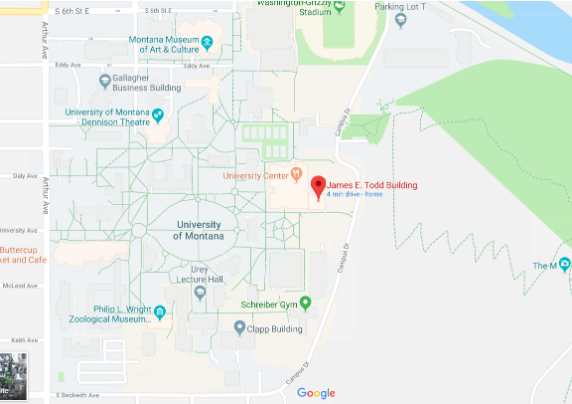 Parking is free on weekends at the University and should be plentiful, however, on Saturday morning the YMCA River Bank Run will be happening. The course includes the University area. There will likely be some congestion and possible road restrictions, but access to the Todd Building via Campus Drive will be maintained. Leave a little extra time to find your way if you can.

We will be doing on the bike training on Sunday afternoon and an optional group ride Saturday evening, so bring your bikes! We have arranged for permission to park bikes inside the hallway near the classroom if you wish to ride there. Bring a lock, because even with bikes parked inside, you can never be too safe. We suggest that bikes are not left on vehicles.

We'll provide coffee and a *light* breakfast each morning including locally roasted and delicious Black Coffee Roasting Company coffee, bagels w/ cream cheese, yogurt with granola, and fruit. We'll have some gluten free bagels for those who identified gluten allergies as well as some non-dairy milk.

Saturday will be a classroom day with an optional group ride once we wrap up. Bring your favorite note-taking setup whether that's a notebook or a computer because there will be lots of information to soak in! Attendees are on their own for lunch, but there are plenty of options right on campus, including a market, cafe, and full-on cafeteria style meals at the Food Zoo.

Our suggested Saturday evening activity is to meet up at The Dram Shop–an awesome tap room in town who will be hosting a Community Hand-Up for us, with $1/pint going to the Montana League from 5-10 pm. This will be a great opportunity to mingle with other attendees and there are numerous places within walking distance to grab dinner.

Sunday will start off with classroom time before going into On-The-Bike Skills training after lunch.   Keep in mind, the focus is skills work so plan on riding around in circles rather than shredding trail.  We suggest you bring your riding gear with you to the classroom this day.  Bring comfortable clothes, helmet, shoes etc for riding, but you probably won't need a chamois for this session.  You can change in the bathroom once you've wrapped up lunch if needed and we can lock our street clothes in the classroom while we're out.  The forecast is for showers and a high of 48 degrees on Sunday, so bring your rain jackets and warm clothes.



Saturday 4/27


8:00-9:00

Check-in & Breakfast

9:00-9:15

Welcome & Introduction

9:15-9:45

Intro to NICA/League Update

9:45-10:30

Working with the NICA Student-Athlete

10:30-11:15

Coach Licensing Levels and Registration

11:30-12:30

Risk Management and NICA Safety Study Review

12:30-1:30

Lunch

1:30-2:30

How to Start and Manage An Interscholastic Cycling
Team/Club In Your League*

2:45-3:45

How to Recruit, Coach and Work with
Female Student-Athletes

4:00-5:00

Sponsorship & Fundraising

5:00

Wrap- Up/Group Photo

5:30

Optional Group Ride

5:00-10:00

Community Hand-Up at The Dram Shop— $1/pint goes
to NICA! Plenty of dinner options available within
walking distance



Sunday 4/28


8:00-8:30

Breakfast

8:30-9:15

NICA Rulebook Essentials for Coaches

9:15-10:00

Designing an Effective Practice Structure

10:00-10:50

NICA Event Ready (Race Day)!

11:00-12:00

OTB 101: Classroom A, B, C 's, Bike Fit, Clothing,
and Gear*

12:00-1:00

Lunch

1:00-4:30

On-the-Bike Skills 101 Clinic

4:30-4:45

Closing